Create a TikTok app
Follow the steps to create a TikTok app on https://developers.tiktok.com.
Register a TikTok developer account using your email via https://developers.tiktok.com/signup.
Login to https://developers.tiktok.com/login using the TikTok developer account you just created.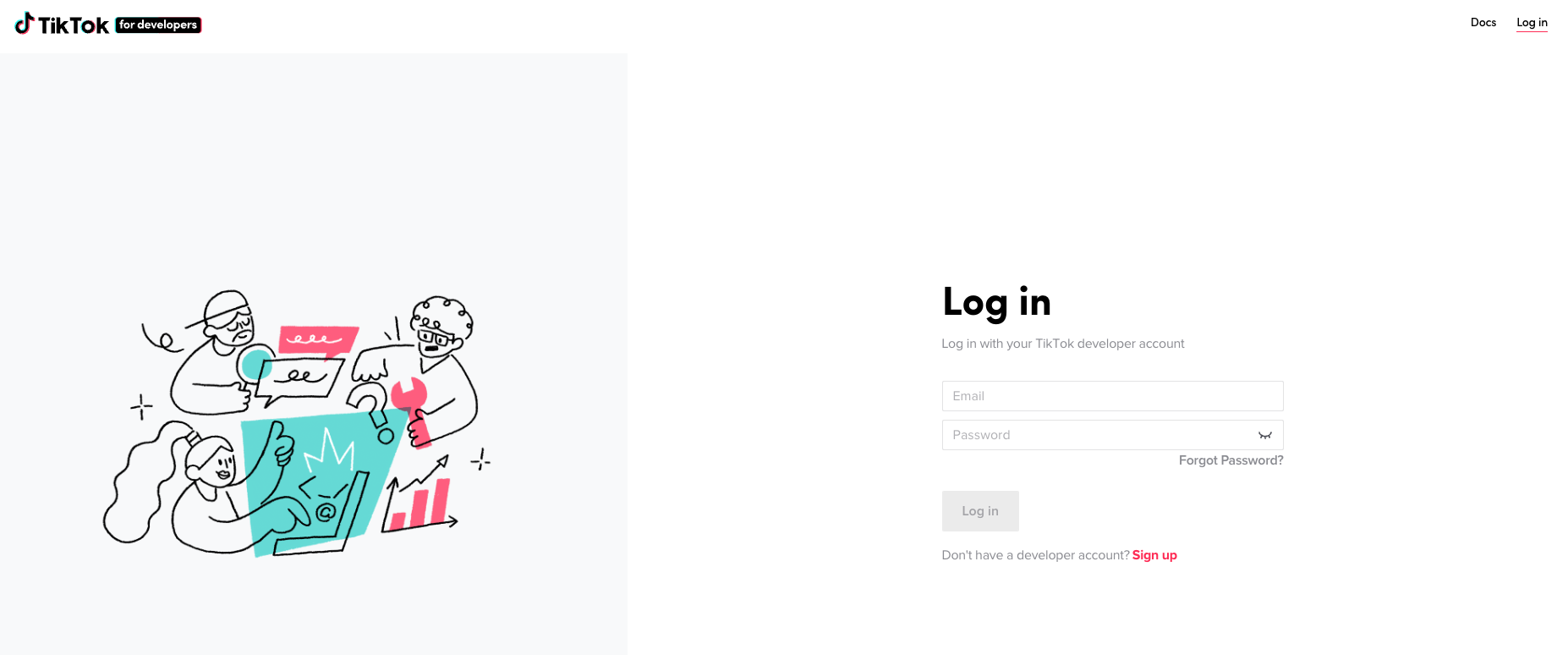 Click Manage apps on the right side of the header navigation bar after logging in to reveal a list of your apps. You can also click the Get Started button in the banner.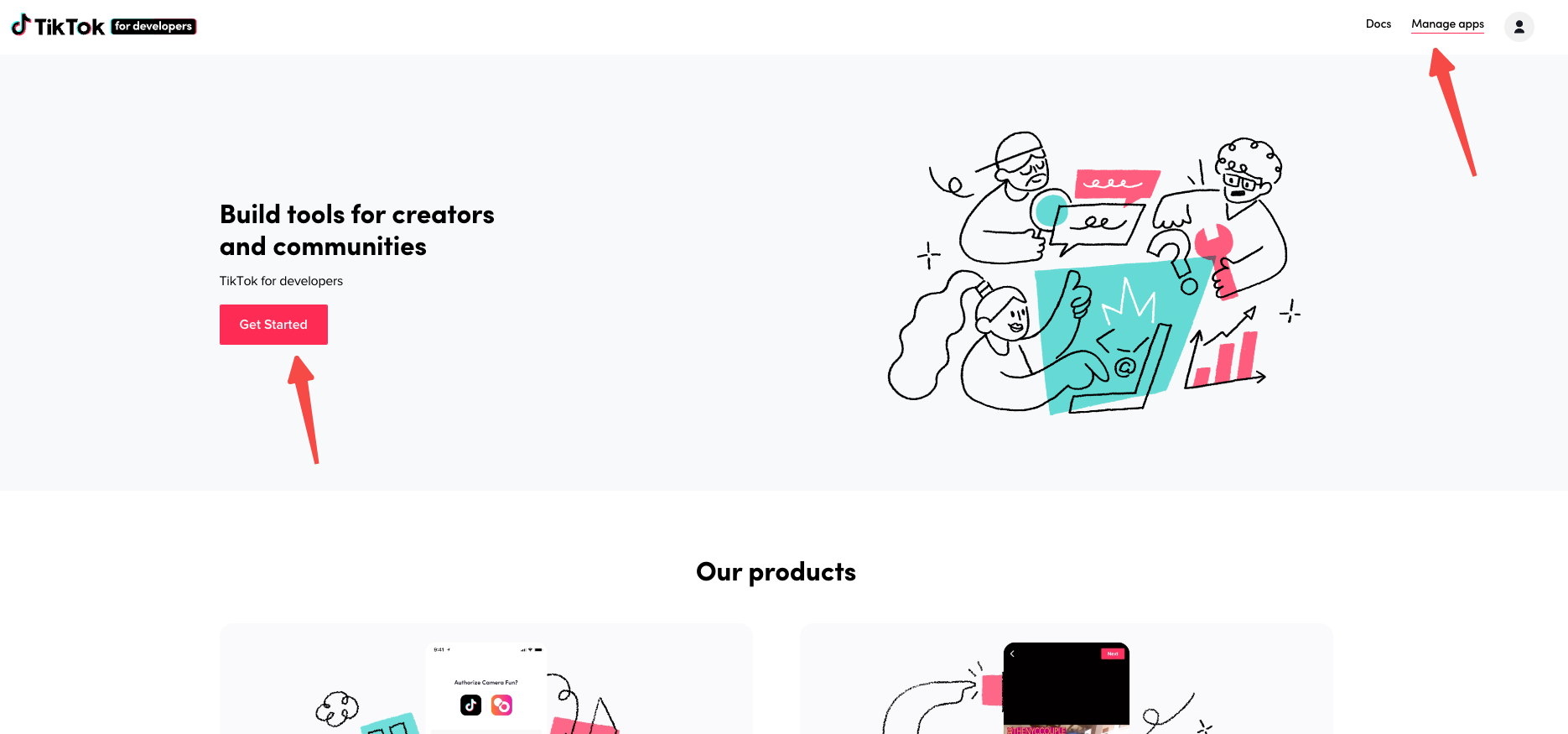 Click Connect an app to create a new app.
Note: You may not have any apps since you just created the developer account.
Fill in the necessary information in order for your application to be reviewed. Use the left hand navigation panel to help you navigate the form.
Navigation overview
Manage apps would take you back to view the list of your apps.
In this example, App169030 is the default app name we created for you. Click on App details or Configuration to scroll to the corresponding section. Click on Add a product to add products to your app. We will cover this in the next sections.
You can perform the following three operations on top of content panel:
Delete app - Deletes the current app. Be cautious, this cannot be undone!
Submit for review - Save any changes and submit for review.
Save changes - Save any changes without submitting.
App details
App details displays the essential app information.
App ID is the unique identifier for your app. Having your App ID will enable support to locate your app when contacted for help.
Client key and Client secret are pieces of information for you to include in your own application to invoke TikTok APIs. They will be available after the app has been approved.
Configuration
The Configuration section displays and collects basic app information.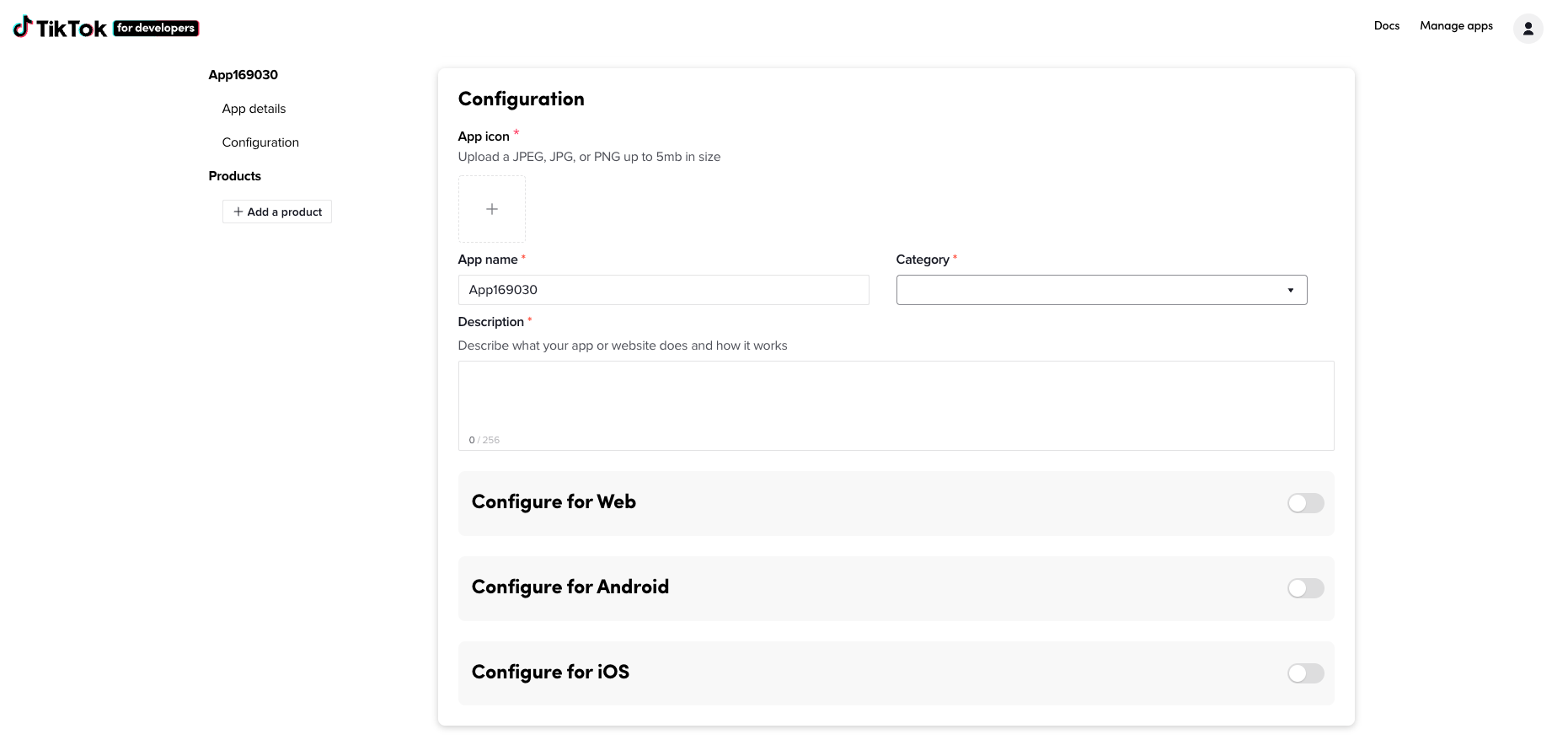 The App icon and App name are displayed whenever your app is present in TikTok ecosystem. See below for an example.
Selecting a Category will help us better understand what your app is about. Include a Description that will be displayed in the TikTok app when a user views the authorized app. It will help the user understanding what your app is about before it de-authorized your app.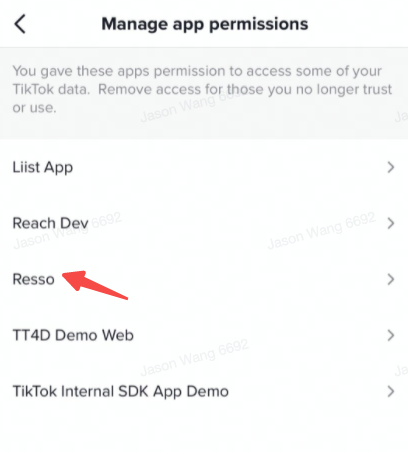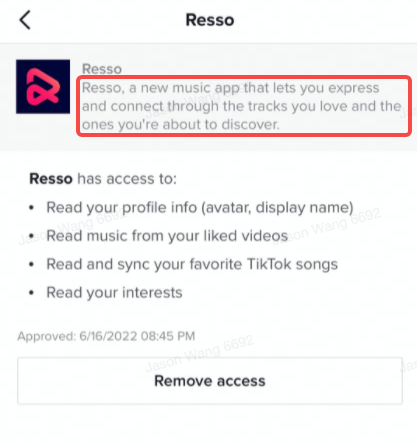 Platforms
Next, lets talk about platforms. You can run your app on web, Android, and iOS. We will review the different information for each platform.
Web only requires the official website.
Android requires a package name and App signature. This information is used to verify your app identity when you invoke TikTok APIs. Android will also need Play Store URLs to get a better understanding of your app.
iOS requires the App Store URL as well as the Bundle ID, which is used to verify your app identity when you invoke TikTok APIs
Products
Next, lets talk about products. Add products to your app on the left hand side navigational panel. Let's add Login Kit first.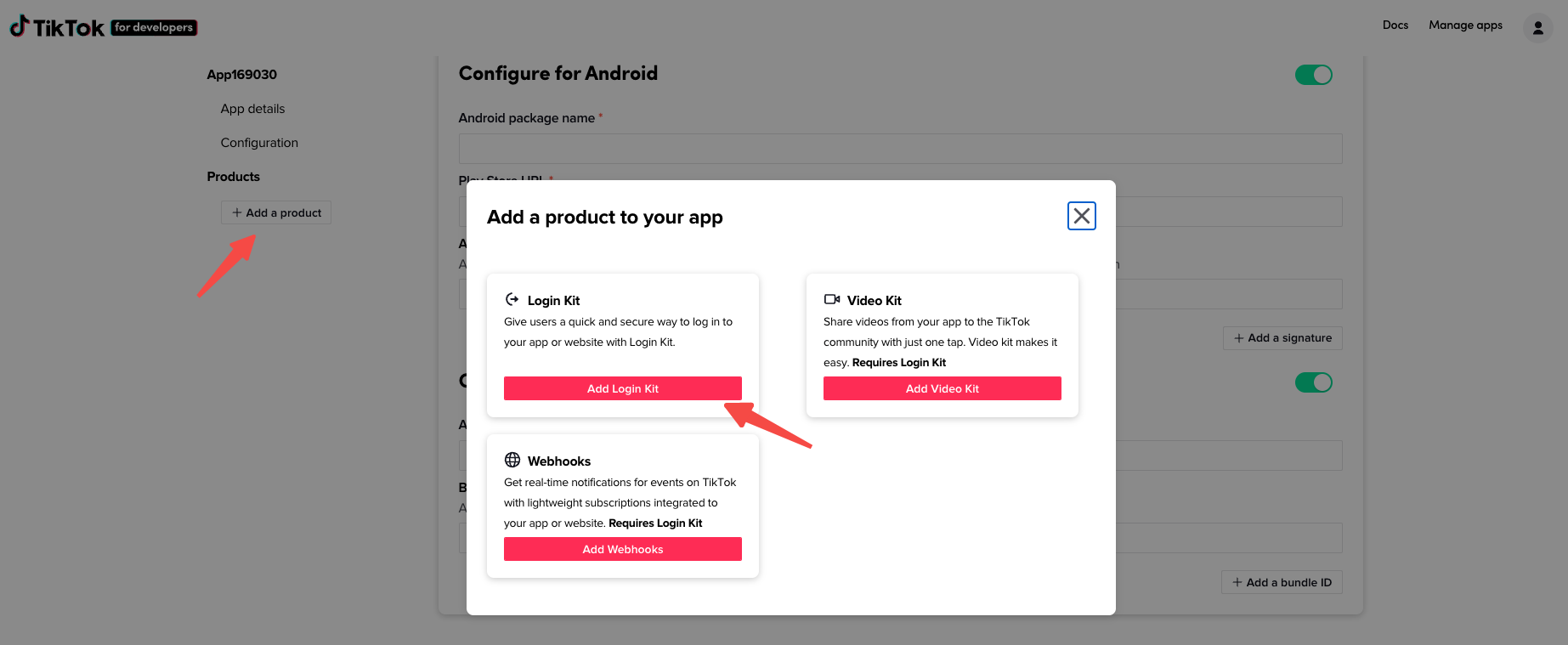 For demo purposes, let's add the remaining products as well.
Note: Only add what you need in a real scenario.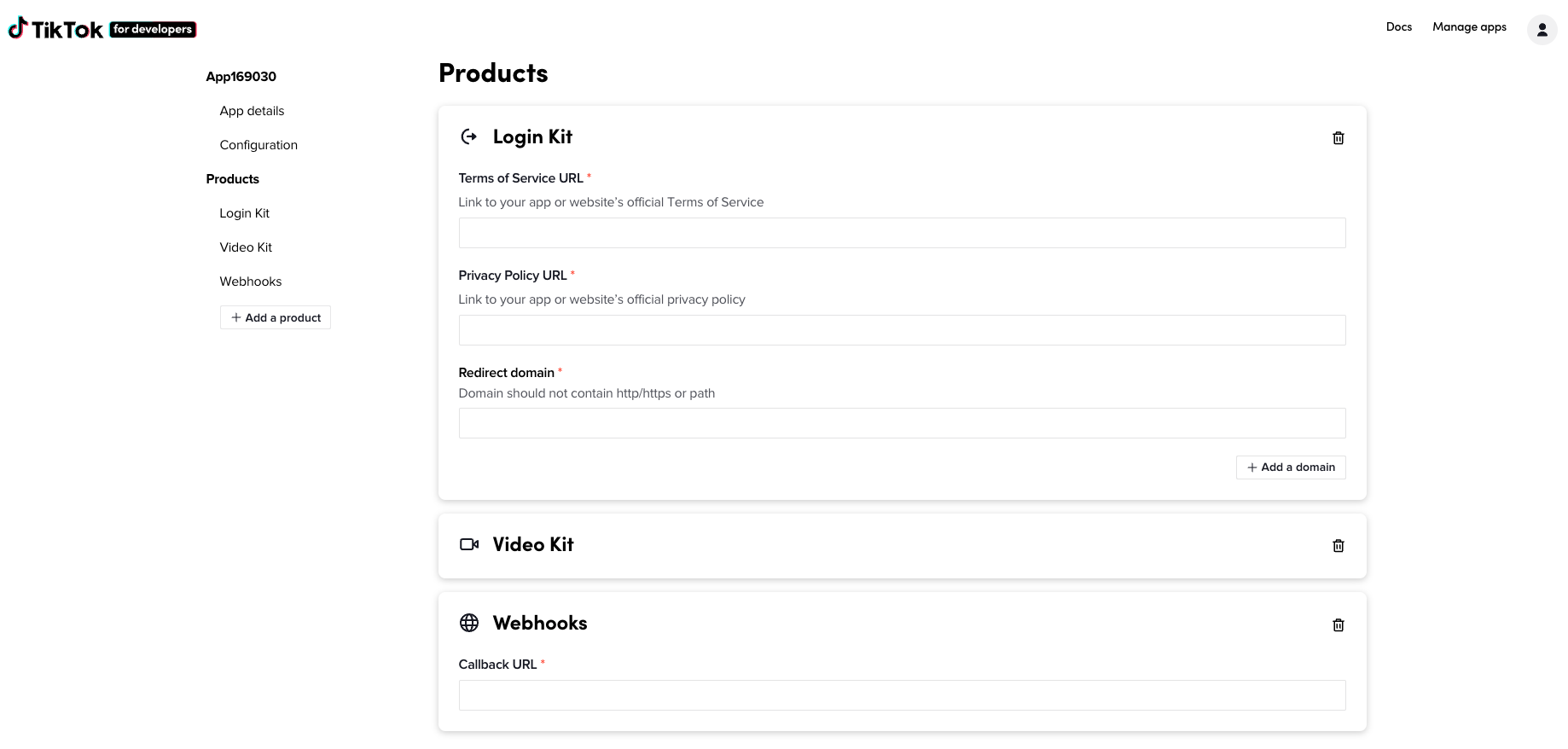 You can see the corresponding navigation items on the navigation pane after the products are added. Here are some explanations for product specific settings.
Login Kit
Terms of Service and Privacy Policy URL will help us better understand what your app is about. Also, it will be displayed when app user is prompted for login authorization.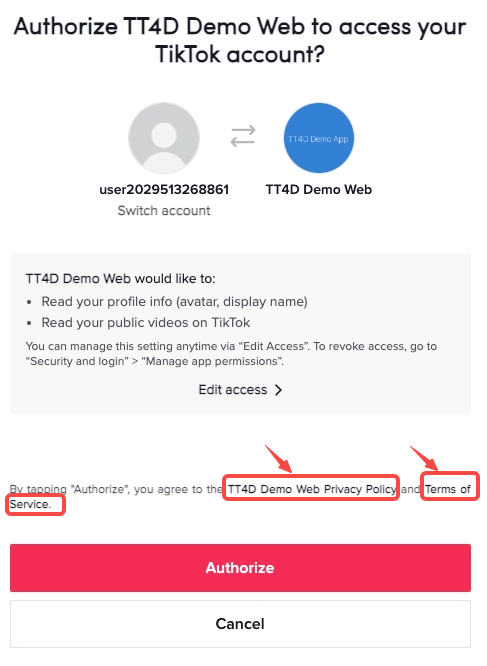 Redirect domain is required when platform is only web. After a user completes login kit authorization on web, you must supply a URL to redirect the user in your app. The domain of this URL must be defined here.
Video Kit
Webhooks
Callback URL is the place where the notification will be sent over.
Submit for review
Click Save changes to save current progress.
Click Submit for review once you completed, and we will start reviewing your application.
For further assistance, please send the email to tiktokplatform@tiktok.com.